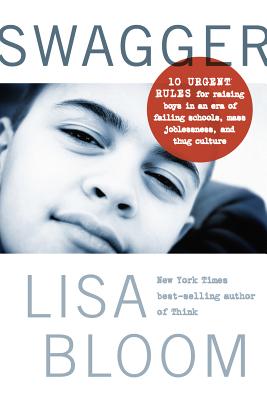 The growing national discussion on bullying was thrust to the forefront of everyone's minds in recent weeks with the story of Karen Klein being featured on nearly every major news outlet in the United States. With this in mind, INscribe reached out to Lisa Bloom, author of SWAGGER for her insight on the state of bullying in today's society and what can be done to change the course of our troubled youth.
Additionally, we asked Lisa about her experience in self publishing as she has a unique perspective being previously published by a traditional publisher (Think! 2011 Vanguard Books) then working with an Agent (Laura Dail) for her new title SWAGGER.
Lisa, the national discussion on bullying gains momentum every day. What do you make of the unprecedented public support (both financial and moral) for the now famous bullied bus monitor, Karen Klein?
LB: The video of the boys' cruelty struck a deep vein of outrage in America at bullying and disrespect.  This is the first time I'm aware of that a quick-thinking supporter set up such an easy, online method for Klein's supporter to contribute to a vacation for her.  As of this writing 2/3 of a million dollars had been raised, mostly in small donations.  Each of those donations was a vote for love over hate, a beautiful outpouring of kindness to a stranger.
The bigger question is not how this happened — kids will always push the boundaries, and if no one pushes back, kids in groups will often escalate and try to outdo each other's meanness — but what parents can do to prevent this type of behavior in their kids, and how to address it if it does happen.  I was shocked at how many commentators called for criminal charges against these 12 and 13 year old kids.  How quickly we go there, which is why we incarcerate more of our own people than any nation on earth.  But the real answer lies in parenting.  As I discuss in Swagger, we parents must speak up for our values loudly and often.  We must teach our boys to respect women and girls.  The importance of this cannot be overstated.  Their future depends on it.
Bullying is woven into the fabric of childhood development, how do we as a society reverse the stigmas that come with bullying? Many students today think that bullying is "cool" – what can we do to reverse that?
LB:  First, we must be aware of the many pro-bullying cultural messages our boys get every day.  Reality shows that glorify meanness and cruelty.  Video games, movies and TV where every problem is solved by violence.  Rappers and hip hop artists who swagger and strut and brag about raping women and murdering gay men.  Of course our boys think bullying is cool.  Some of the biggest entertainment companies in the world are profiting from messages teaching just that.
The good news for parents, though, is that when kids are asked who their #1 role model is, it's always the same answer:  parents.  In my book, "Swagger," I explain how to become aware of the media messages bombarding (kids), and how to counter them.  Parents must discuss their values loudly and often.  And turn off the screens whenever possible.  This stuff is so destructive.
What are the most important factors parents, teachers, and childhood advisers need to take into account when bringing up boys and girls today
LB:  What is "virtual reality" to us — Facebook, video games, TV — is often more real to our kids than the bricks and mortar world.  The shocking number of Facebook suicides is a sad reminder of that.  We must have the usernames and passwords to every site they visit, and monitor frequently.  If not, turn it off.
And for boys, parents must stress literacy.  Boys have shockingly low reading rates.  In the book I explain how to get your boys reading more, improving their academic performance across the board, and my twelve page (list of) "Books Boys Love" can connect your boys to wonderful books to inspire them.
What is it like to self publish your book and how is it different from working with traditional publishers?
LB: It's great to control my own work.  The old publishing model is falling away, and rightly so.  I have worked very hard to get the message out about my book.  If an author is committed to doing her own PR, learning the process, overcoming obstacles, self-publishing is the way to go.   I am entrepreneurial anyway.  I own my own law firm and I'm always involved in different TV projects, so this made sense for me.
What is most fulfilling about self publishing your work?
LB: Knowing that I own my own work. That I didn't have to sell it to someone else and settle for pennies on the dollar afterwards.  No one believes in my book as much as I do.  They wouldn't push it as hard as I would.  (Except, perhaps, my amazing book agent Laura Dail, ever-enthusiastic and hardworking and smart.)
You engage your audience in many ways, what insight can you provide to an author that is looking to build an audience around their book?
LB:  Build a Twitter following that you can market to.  Read books by successful self-published authors on how they did it.  Keep up with what's working and what's not.  As with any business, don't sweat the mistakes.  Learn from them and move on.  Learn how to pitch your book to TV, radio, web and print outlets, and do it relentlessly, or hire someone to do that.  I hired a recent college grad to do this full time, trained her, and she has achieved many more bookings for me than teams of publicists I had previously used.
There are two parts to being an author today:  writing the book and selling the book.  The second part can be harder.  So what?  If it was easy, everyone would do it.  Don't skip the second part.  Remember every day why you wrote your book.  Now get out there and sell it.  Good luck.  I believe in you.  Authors rule.
About Lisa Bloom: Lisa Bloom is an award-winning journalist, legal analyst at Avvo.com, and trial attorney. From 2001-2009, Lisa hosted a daily, live, national television show on Court TV. She is currently the CBS News and the CNN Legal Analyst, appearing frequently on The Early Show, and on CNN and HLN prime time shows. She is a regular legal expert on The Dr. Phil Show and in the last year has guest-hosted Larry King Live, The Early Show, and Showbiz Tonight. Lisa graduated early with a phi beta kappa from UCLA and then from the Yale Law School.  Her first book, THINK!, was a New York Times best-seller.
Be sure to follow Lisa on Twitter here: @LisaBloom
Like Lisa on Facebook here: http://www.facebook.com/LisaBloomAuthor
Buy SWAGGER here:
iBookstore
Sony
KOBO
Amazon
Barnes and Noble